QT9 QMS
¿Qué es QT9 QMS?
¿Quién usa QT9 QMS?
Cualquier organización que deba supervisar el cumplimiento normativo (como ISO 9001, ISO 13485, AS9100, cumplimiento con FDA, etc.) o cualquier organización que busque gestionar su sistema de calidad sin papel con una interfaz fácil de usar.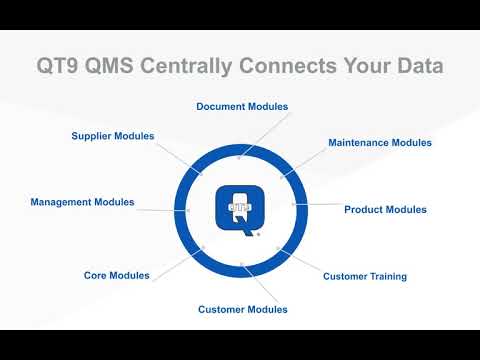 ¿No estás seguro sobre QT9 QMS? Compara con una alternativa popular
Versión gratuita
Prueba gratuita
Versión gratuita
Prueba gratuita
¿Por qué estoy viendo esto?
Jennifer
Quality Manager en EE. UU.
Dispositivos médicos, 11-50 empleados
Ha utilizado el software durante: Más de dos años
Alternativas consideradas:
QT9 QMS
Comentarios: We have observed several benefits from moving to QT9. It has allowed us to move from a paper based/manual QMS system to an electronic system and reduce our paper consumption and record storage. QT9 has streamlined our internal auditing process, preparation for regulatory audits, document control and approval, and organizational training. We have been able to reduce our active documents by 30% as unnecessary/redundant documents and procedures have been made more visible through the document review process. QT9 made it possible for our organization to effectively maintain and continue operating our QMS system without interruption during the global pandemic when limits were placed on gathering size. All of our records are now in one location and it has reduced the time that the organization and Quality unit spend in locating records.
Puntos a favor:
QT9 allowed us to replace our clunky paper based QMS and move completely to a streamlined, validated electronic platform. The ability to easily manage our document control, auditing, non-conformances, corrective actions, preventive actions, complaints, and calibrations in one location instead of having to spend time retrieving records from multiple locations. QT9 made it possible to maintain our organization's training needs during a global pandemic, when meeting face to face and in groups was restricted. QT9 made it possible to conduct remote training of our organization and evaluate effectiveness with a written test. It unknowingly prepared us to maintain all of our core Quality functions in the midst of a global pandemic without a mis-step. The report format (complaints, corrective/preventive actions, non-conformances, etc) look professional and they are able to quickly be downloaded and provided to either customers, suppliers, auditors, and internally. The consistency of the appearance of the screens in each module made training the organization to use very easy. It was easy to translate the learnings from one module to another. Implementation was similar as well. QT9 technical assistance in uploading of documents and gauges increased the speed in which were able to integrate it into our organization. The unlimited training was also critical especially for the calibration module as it took a bit longer for us to implement and understand how it functioned.
Contras:
One feature that would benefit from improving is the ability to create both corrective action and non-conformance records from a customer complaint. Currently, the software only allows the creation of one or the other, but not both. However, all records between complaints, corrective actions, and non-conformances are linked through a daisy chain scenario, but it can be awkward when retrieving records during an audit. The calibration module was the most difficult for us to implement as it operated a differently than the other modules. However, QT9 technical support assisted and provided us with all of the training that we requested without delay and worked with us to ensure that we implemented the module correctly for our organization's needs.
Respuesta de QT9 Software
el año pasado
Jennifer - Thank you for the awesome and super detailed review! We really appreciate you taking the time to share your feedback. These are such great suggestions! We are sharing your feedback with our team.
Bill
QS Compliance Manager en EE. UU.
Dispositivos médicos, 51-200 empleados
Ha utilizado el software durante: Más de dos años
Looking forward to using more modules
Comentarios: The document control feature has improved our ability to find documents and some records when requested for audit or project purposes. Training is much easier to manage than our old process of paper, binders, and spreadsheets. I like being able to link equipment and gages to system documentation in the Document list. The customer service has always been helpful and responds quickly. There has been very little unscheduled system downtime and when it happens, is usually resolved quickly. Especially after this last year with the pandemic, we were able to keep some processes moving uninterrupted and we're now looking forward to using additional modules over the coming year, including CAPA, Audits, NCP, and Supplier Controls.
Puntos a favor:
We've been using the Document Control and Training Modules for just over two years. Both are fairly intuitive and fit in pretty well with what we had previously been doing on paper and with spreadsheets. Within the last year, we began using the Calibration and Maintenance modules and our teams seem happy with them as well. I like the ability to create unlimited "user-defined fields" to tailor some of the modules more to how my company does things.
Contras:
I would like to see the ability to add employees, or at least job titles, to the Document Request record so they can be reviewed and added/updated prior to full document approval and training record generation. This would be especially handy for new documents. Right now, we have to wait until a document is published to assign to job titles. Either that, or when an employee is evaluated by the manager in the training record, there could be a pop-up that asks "do you want this added to the employee's job title?"
Respuesta de QT9 Software
hace 2 años
Bill - Thank you very much for the positive review! It is great to hear you have had a good experience with QT9 QMS. Thanks for the feedback, as we are always looking for ways to add more flexibility.
Dina
Quality Management Specialist en EE. UU.
Telecomunicaciones, 501-1.000 empleados
Ha utilizado el software durante: Más de un año
Alternativas consideradas:
Very robust program that centralizes and manages essential QMS & EMS processes and outputs.
Comentarios: The software is outstanding, the support is quick, and thorough. The QT9 team has worked with multiple departments in our organization. From our internal IT group working to setup connections to other platforms, to the implementation team members and document admins as they have been introduced. The support has been consistent and so very much appreciated.
Puntos a favor:
Intuitive, friendly user interface, the well thought out connections from one module to another. The fact that each module is included and not ala carte is a HUGE benefit. The online training academy is one of the best I have used.
Contras:
A lot of filters that just take a bit of getting used to. Sometimes they default and employees need a little extra coaching to make sure they are loading the view they need.
Respuesta de QT9 Software
hace 2 años
Dina - Thank you very much for the 5-Star review! It is awesome to hear you like that all the modules in QT9 QMS are automatically included. Please feel free to reach out to us at anytime for additional training on any modules or training for any new employees.
Michael
Director, QA/RA en EE. UU.
Envases y contenedores, 201-500 empleados
Ha utilizado el software durante: 6-12 meses
Alternativas consideradas:
QT9 is a fantastic QMS tool
Comentarios: We are moving towards a complete integration with QT9 QMS to eliminate a lot of our paper and Excel processes. Having interlinked modules (for example, being able to create NCs directly from inspection results) saves time and improves efficiency. Overall it's a very good platform for a company who needs to jump into a one-stop QMS solution.
Puntos a favor:
The product is easy to implement because of the built-in world class workflows. You do not need to map your current processes into QT9 - you use the built-in process workflows, and the workflow and tab interface is consistent across the modules. This makes deployment easy, because once people are familiar with the interface they can learn other modules easily. You can focus on how to *use* the software, and not spend valuable time trying to *configure* it.
Contras:
QT9 is very responsive to feature requests and bug fixes. We have provided several suggestions that are being considered to improve usability. I guess the think I like least is that I didn't start using it sooner.
Respuesta de QT9 Software
el año pasado
Michael - Thanks for the positive review! We are happy to hear that you have found the implementation easy. We look forward to working with you more on your other workflows and modules.
Terri
Quality Process Manager en EE. UU.
Fabricación de ferrocarriles, 201-500 empleados
Ha utilizado el software durante: Más de dos años
Alternativas consideradas:
QT9 Quality Management System
Comentarios: Before using QT9 data gathering and analysis was difficult at best. Now we have the ability to analyze data in order to make real changes to the quality of our processes and products.
Puntos a favor:
Easy to set up and use, yet very powerful reporting capabilities. As the administrator I can add users, structure drop down menus, etc. myself and don't have to rely on outside sources.
Contras:
Nothing currently comes to mind, but this is because QT9 asks their customers to submit feature requests for improvement ideas.
Respuesta de QT9 Software
hace 9 meses
Terri - Thank you very much for the 5-star review! It is great to hear you like our simple pricing model with all the modules included. We appreciate you taking the time to share your positive experience.