Buildertrend
¿Qué es Buildertrend?
Únete a más de 700 000 usuarios y administra tu empresa de construcción o remodelación con el galardonado software de gestión de construcción Buildertrend. Programación en línea, órdenes de cambio,
Leer más
gestión de documentos, fotos, selecciones de clientes, garantía, órdenes de compra, administración de clientes potenciales, entre otros. Basado en la nube, los usuarios inician sesión desde PC, computadoras portátiles, iPads y teléfonos. Las notificaciones automáticas ayudan a los constructores a gestionar sus operaciones en tiempo real, brindando a sus suscriptores, proveedores y clientes una mejor experiencia.
Mostrar menos
¿Quién usa Buildertrend?
Buildertrend es ideal para constructores de casas, remodeladores, contratistas especializados y contratistas generales.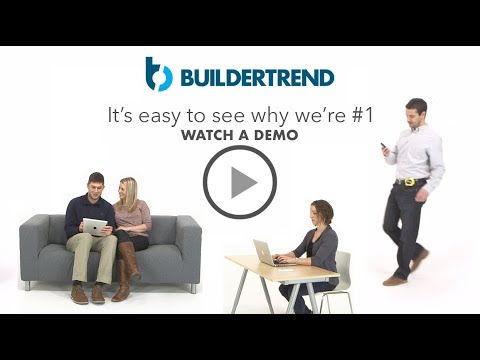 ¿No estás seguro sobre Buildertrend? Compara con una alternativa popular
Versión gratuita
Prueba gratuita
No se han encontrado precios
Versión gratuita
Prueba gratuita
¿Por qué estoy viendo esto?
Alternativas a Buildertrend
Bianca
Interior Designer
Usuario de Linkedin verificado
Diseño, 2-10 empleados
Ha utilizado el software durante: Más de dos años
Buildertrend design/construction office review
Los subtítulos en español están disponibles en el reproductor de vídeo
Richard
Project Manager en RU
Construcción, 11-50 empleados
Ha utilizado el software durante: Más de dos años
Alternativas consideradas:
Streamlines so many parts of our business
Comentarios: Very good. If youre going to integrate BT make sure you take it on a section at a time. Dont try and open up too many sections to your team These guys have given a lot of thought to the software and it forms an amazing backbone for any client facing construction business. We couldnt last the day without it.
Puntos a favor:
This software is outstanding in many different areas We initially purchased it initially to manage our clients selections for new homes and it quickly got integrated elsewhere to the point its the backbone of many of our processes We use this now to manage client change order (it pays for itself on this alone every month) selections, materials ordering from site, daily logs, H&S management, RFI's for the design team and photo storage and programming to name but a few We couldn't go back to the old ways of doing many of these There are a lot of different features and you'll certainly find many that'll make it worth your while to use Oh and the customer support is ace
Contras:
Overall roll out is great and intuitive but you do need to comit to integrating BT to your business and this takes time and effort. THis is a software that gives back 10 fold what you put in, but it does need your comittment.
Respuesta de Buildertrend
hace 2 años
Richard, thank you so much for your honest review and feedback! We appreciate you sharing how Buildertrend works for Appletree Estates, and we feel so lucky to have you as customers.
Jesse
Productions Manager en EE. UU.
Construcción, 11-50 empleados
Ha utilizado el software durante: 1-5 meses
Alternativas consideradas:
Now that our company has grown, this program meets our needs better
Comentarios: Last year when we first were shown the program we decided not to go forward. Now our that our company has grown, we see that BuilderTrend will be crucial for keeping ourselves and our crews organized. The rocky portions of the software do not outway the usefulness to our company. There is a learning curve and a lot of things to iron out as we implement it, but I can see it being a huge asset compared to other programs once we nail it down. On top of that, I know their team will keep improving the features and adding more features to a program that is already rich with features.
Puntos a favor:
The best feature in this program is communication and scheduling. Also, where other programs have to borrow from many 3rd party programs to achieve their functions, this program is able to incorporate all in one. We are using it for every step of the construction process, from sales to estimates, to job management and scheduling and invoicing. Other neat features include requesting bids to subs and vendors within the program, financing for customers, interactive and customize-able selections for customers within the program. There are other features not mentioned in this review as well. The main point is that this program offers all management needs for builders and contractors, and the software team continues to update and add features according to the requests and needs of those who are using the program. Also, where competitors charge extra for each user, this company includes unlimited users in their package, as well as unlimited subs and vendors. Some of the functions you would have to pay extra for in other programs like scheduling for crew etc. are included in their main package. Therefore the price, and what you get for your money is way better.
Contras:
This software is a little more difficult to learn than other competing programs, due to it's complexity and depth of features. At times it's a bit overwhelming, though that is to be expected with the level of depth. Also some other programs have a general appearance which makes the program more inviting and user friendly. That being said, we still moved forward with this program because of the need for more features without having to pay all the extra money. One feature they really need to improve is their proposal builder. They have good formatting options and cost codes/ item catalogs where you can build price lists within the system, but when you add items into the estimate or create a big template, when you want to go and edit info like quantities etc. you have to go through an ocean of items that are not clearly formatted (they have a worksheet tab for editing items, and a format tab for grouping and changing layout for final appearance, but the worksheet portion is unformatted, and in the format section you cannot delete items or change them at all. Therefore I found the proposal functions to be a bit rocky to deal with. However, buildertrend users can vote on improvements for the program and so there is at least light at the end of the tunnel.
Respuesta de Buildertrend
hace 3 años
Jesse, thank you so much for your honest review! We appreciate you taking the time to give us such detailed feedback and I will be sure to pass it on to our Product team. Thank you again!
Randy
owner/president en EE. UU.
Construcción, 2-10 empleados
Ha utilizado el software durante: Más de dos años
G.C. point of view
Comentarios: Overall my experience has been outstanding with this product. It has freed me up to better RUN my company (instead of it running me) and finally be able to have some decent structure to it all in a few pieces of software to include BT.
Puntos a favor:
organization, everything in one place...even if you want your QB to link to it, which we don't...I kinda like the two separate. We don't really use the PO portion of the software but have tried it and it's nice to know that its there...wish there were more video's on the entire program from set up through project completion. Techniques and more demonstrations on product capabilities and link-able aspects of the program. I use chief architect for our design software, have been for over 20 years. They have great video's of product usage, tips and techniques by chapter from set up to a completed set of quality professional plans. I believe BT could do the same, this is a great product for managing a company like ours and the cloud just makes it that much easier to work remotely anywhere in the web is. The price point is perfect for us and allows us to operate at a competitive rate.
Contras:
For what I use it for I don't really have a dislike but I don't use but maybe half of the program. Wish there were more video's on the entire program from set up through project completion. Techniques and more demonstrations on product capabilities and link-able aspects of the program.
Construcción, 2-10 empleados
Ha utilizado el software durante: Más de dos años
Well worth the money
Comentarios: The software, like all I've tried to implement over the years, can be a little frustrating at first. You're going to get pushback from trade contractors and field people. However, I think it is well worth it. More importantly, the trades and field people have come to rely on the software and usually appreciate it after 3 to 4 jobs.
Puntos a favor:
The customer service is surprisingly amazing. Anytime I have a question, I am able to reach someone by phone or email very quickly. The integration with Quickbooks Desktop is almost flawless. We use the daily logs quite regularly. These logs allow the entire team to remain up to date on the jobs and their progress. We've also found that the homeowners are reassured by these daily logs. The bids section has saved us tremendous time and increased our estimating accuracy. The ability to be able to template jobs, bid packages, and so many other items saves us a ton of time.
Contras:
The software seems to be most suited for a cost-plus project. As we bid jobs on a fixed price, we have found a few of the features less useful. We are only using about half of the features. I can't fairly say that these unused features are not good, but we do want to use some of these features, and the fact that we have been unable to implement them causes me some frustration. These features include the selections and the warranty sections.
Arthur
Contract Administrator en Australia
Construcción, 11-50 empleados
Ha utilizado el software durante: Más de un año
Alternativas consideradas:
Arthur's BT experience at TCON Homes
Comentarios: It is helping in changing the culture at TCON Homes. It is a bit hard to explain for construction people that planning is more cost effective than starting smashing walls because you are aggregating value doing physical labour.
Puntos a favor:
Communication of job progress with subcontractors, client portal, upload photos, variatin and owner invoices.
Contras:
There is no taxes *yet. No milestones schedule items, but maybe not needed. Hope one day I can see To-dos on Gantt chart (not as a extra line, but a floating point).