DELMIAworks
¿Qué es DELMIAworks?
Fabricación de software ERP diseñado para fabricantes discretos y de procesos para ser compatibles con especificaciones únicas y variadas del sector en mente. Su concepto integral permite un enfoque
Leer más
modular y escalable al tiempo que elimina aplicaciones de terceros. EnterpriseIQ ERP aumenta la visibilidad transversal del departamento con un completo sistema de administración de la cadena de suministro, contabilidad y fabricación en tiempo real que incluye módulos como calidad, EDI, WMS, supervisión de producción/proceso y más.
Mostrar menos
¿Quién usa DELMIAworks?
Las soluciones ERP de fabricación IQMS están diseñadas para ser compatibles con fabricantes de procesos repetitivos y por lotes. 21 listas de materiales preconfiguradas están disponibles para una multitud de procesos de fabricación.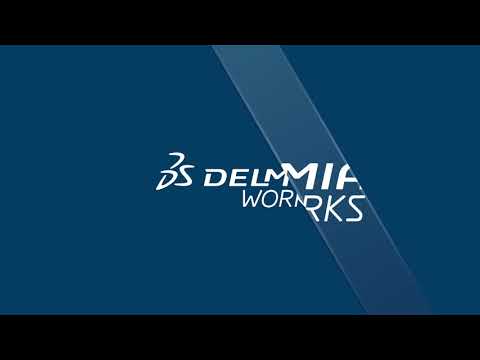 ¿No estás seguro sobre DELMIAworks? Compara con una alternativa popular
No se han encontrado precios
Versión gratuita
Prueba gratuita
No se han encontrado precios
Versión gratuita
Prueba gratuita
¿Por qué estoy viendo esto?
Alternativas a DELMIAworks
Renata
President en Canadá
Plásticos, 11-50 empleados
Ha utilizado el software durante: Más de dos años
No More External Spreadsheets
Comentarios: If we had not implemented three years ago, we would have been up a creek without a paddle. It is truly an end to end solution and with so many packages to add on to the core, it will be able to grow with us into the future.
Puntos a favor:
This system goes from quote to customer right through sales, purchasing, engineering, manufacturing, quality control, material review board, non-conformance, returns. HR modules and document control are available. Warehouse and distribution allowing for scanners and barcoding. Many many add on's within the same software company - as well as the ability to go outside the core and get third party spreadsheet add on's that make reporting a breeze. Unbelievable continuity in this system. This is the first system where the schedule was actually useful - we do not have to do our scheduling outside the system!!!! With crystal report writer, every report can be modified to your specific needs. With various areas for custom fields in all sorts of places, you can set your own fields that you require that are not already in an extensive list of fields already available. We have implemented the core packages plus MRO, Quality, Document Control and are planning to put some HR and warehouse management packages on shortly.
Contras:
Because of its overwhelming ability to do almost anything, sometimes you are disappointed by some small things it cannot do. Sometimes you have to go through a couple of people to find the best solution to your problems in support, but generally they get you the answers in a timely manner.
Usuario verificado
Co-Owner en EE. UU.
Usuario de Linkedin verificado
Plásticos, 51-200 empleados
Ha utilizado el software durante: Más de dos años
IQMS Review
Comentarios: Overall, we are happy with IQMS. We are a plastic injection molding company and we use the system from quote to cash. It is our central point of information and connectivity between departments. We are intending to expand our usage of the system in the future by adding other modules. Our reporting capabilities are significantly increased through the usage of this system as well. We use the IQAlert and IQVoice systems on a daily basis to stay ahead of issues and report problems immediately to the manufacturing floor. RealTime screens are running throughout the plant so we have an instant visual on how the day is going. Overall, this has been a great benefit to our company and has helped us grow our business.
Puntos a favor:
The Real time access to information is my favorite thing about this software. We use the modules to connect to the machines and this information drives many of our decisions. The system has a great deal of functionality, and I know we are not utilizing it to its fullest. It has helped us as we are growing as a manufacturing company.
Contras:
I do not like having to upgrade to a whole new version when we need to make a change. It would be nice if we could simply update with a patch. It takes a long time to get a solution to a system issue and we are often making work arounds. I know they are beginning to offer web-based solutions that will probably largely eliminate this issue. (Although, development and corrections will still take time I'm sure). Also, I feel as though the customer service has gone down since we began with them in 2011. I tend to only call support when I'm really stuck with an issue. More often then not, I'm directed to help pages that I've already read and still didn't resolve my issue.
John
Materials Manager / EPR Project Lead en EE. UU.
Plásticos, 51-200 empleados
Ha utilizado el software durante: Más de dos años
Fuente: SoftwareAdvice
Very please with IQMS ERP software
Comentarios: We feel that IQMS really had helped us grow, even without huge capital expenditures. We feel that it has made us more efficient, which has allowed us to increase sales without adding extra capacity. It also allowed us to decrease lead times with much better inventory controls and scheduling improvements.
Puntos a favor:
We selected IQMS to give us one central database across all plant functions. Apple Rubber is both a Manufacture and Distributor. Therefore we needed to monitor and control inventory levels and also manufacturing of the product. IQMS WMS gave full warehouse control of inventory. Improving both inventory count and placement accuracy. IQMS Realtime allowed everyone to see what the MFG plant is doing and ties back to the schedule to show if any timing issues. What our customers like best is the Quality module allows full lot traceability as well as SPC and if any issues using MRB or Corrective Actions. Now using IQMS CRM we have outside sales and inside sales working off one system. Marketing can push referrals to sales or engineering to support customer request. Accounting functions are fully supported, which allows us to easily close month and year-end activities. We have also found that regulatory and customer audits are much easier. Both have commented how having one central database is really beneficial and impressed with how well it works.
Contras:
We are collecting a lot more data, so being on the system since 2007 our database has grown. We do need to come up with a way to better achieve or strip data that is not required. Large tables will slow SQL scripts, especially for remote users.
Ryan
ERP Systems Administrator en
Plásticos, 51-200 empleados
Ha utilizado el software durante: Más de dos años
Fuente: SoftwareAdvice
IQMS can be a powerful tool for maintaining the information and processes that drive a business, but a firm's experience with IQMS is highly dependent upon the quality of the firm's employees and business practices before adopting IQMS.
Comentarios: IQMS might benefit from better scaling on their pricing to encourage deeper adoption of the software. The more heavily integrated a business is with IQMS, the less likely that business is to switch to using a competing software solution.
Puntos a favor:
The features that IQMS has are all fairly well developed and mature. Support staff can be incredibly helpful and knowledgeable. There are a wide array of software modules with highly configurable settings to cover most production situations for a diverse array of firms.
Contras:
IQMS implementation specialists can leave a lot to be desired. Many essential features of our install were never configured or were configured incorrectly. To that extent IQMS is highly reliant on companies having individuals with high aptitudes for trouble shooting and problem solving. If your company has this sort of talent, it can be an incredibly helpful software suite. Without that baseline expertise or talent, IQMS can hurt more than it helps. Additionally, the licensing for IQMS is quite expensive, which can make implementing the full range of software impossible. For some companies, modules like RealTime Production monitoring will never be cost effective, and other software features of IQMS are hamstrung by an absence of crucial pieces like RealTime. Because of the way that IQMS' business logic is designed, businesses will necessarily need to make some changes to the way they operate to bring them more into line with the best practices set up by IQMS. Unfortunately, the exact nature of these best practices and the gaps in an individual business' adoption of these best practices is not well specified by IQMS.
Felipe
Managing Director en EE. UU.
Dispositivos médicos, 11-50 empleados
Ha utilizado el software durante: Más de dos años
Alternativas consideradas:
IQMS ERP System
Comentarios: Overall, I've had a very positive experience with IQMS as it helps drive the company's workflows for manufacturing.
Puntos a favor:
I chose IQMS over other ERP Systems because it brought together all the company's functional areas into a single platform (Manufacturing, Finance, Quality). I also liked it was a single company with a single tech support number to deal with.
Contras:
The implementation was a big project.... I wish I had been slightly more involved to prevent headaches down the road.